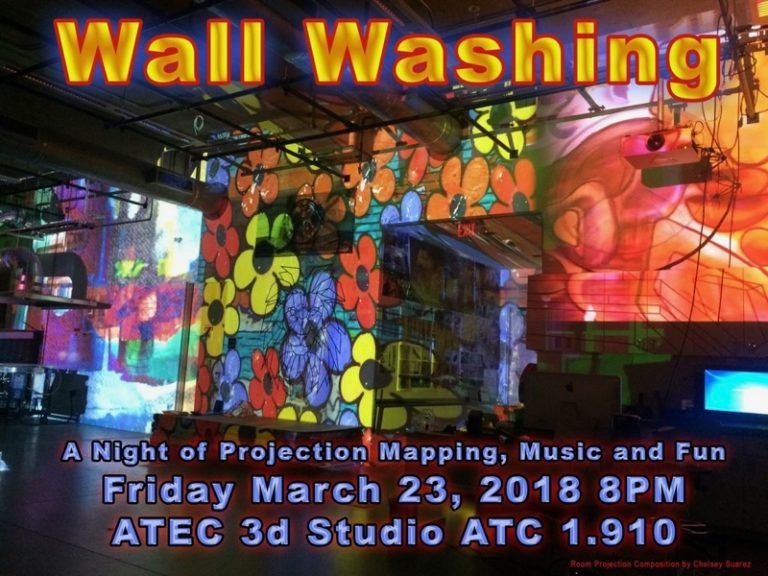 3d Studio WallWash 1.0
Projection Mapped Installations
ATEC 3d Studio
Andrew F. Scott and the ATEC LightSquad
March 23, 2018
ATEC LightSquad

Undergraduate Students, Raymond Allen, Jeremiah Baker, Faith Daignault, Omar Davila, Amanda Garrison, James Hoggatt, Falak Jamma, David Rake, Pablo Reyes, William Russek, Maritza Soriano, Elizabeth Stegall, Chelsey Suarez, Sarah Wall, Mariah Wood,
Graduate Students, Travis Fowler, Morgan Grasham, Ritwik Kaikini, Yoobae Kim, Kuo-Wei Lee, Paulina Mejia, Victor Simon
Students in Undergraduate and Graduate Projection-Mapping studios came together to do the first immersive texture mapping of the 3d Studio. Wall Washing is the process of calibrating all of the wall surfaces for seamless projection mapping. In this process, multiple projectors are set up and blended to turn the studio into an immersive canvas that animates the space.
Students worked individually or in teams to create unified compositions that activated the space. Students employed sound synthesis to create a truly immersive experience.